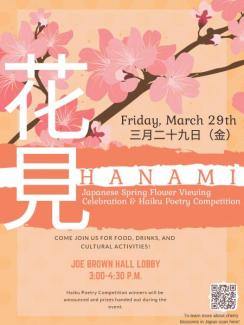 Lobby of Joe brown Hall
Please join the Japanese Language Program for the annual Hanami Festival, A Japanese Spring Flower Viewing Celebration and Haiku Poetry Competition on Friday, March 29 from 3:00 pm to 4:30 pm in the lobby of Joe Brown Hall. Winners of the poetry competition will be announced at the event.
The Comparative Literature Department hopes anyone interested in the Japanese language or culture will join us in welcoming and celebrating the arrival of spring.